The Bahamas are an island chain of around 700 islands and home to the port of Nassau which regularly tops the lists of most popular cruise ports in the world. Nassau itself is known for playing host to some of the world's most luxurious resort hotels, including the enormous, all-inclusive hotels lining Cable Beach. Meanwhile, nearby Paradise Island is a gambling mecca with everything from high-roller blackjack tables to slot machines.
These are just two of the Bahamas' 30 populated islands, however, and many cruises will also choose to visit the less heavily developed Grand Bahama, home to the towns of Freeport and Lucaya. Lucayan National Park is located here and this is the place where Pirates of the Caribbean II and III were filmed. Meanwhile, in Port Lucaya there are a wide variety of shops and restaurants which frequently feature live entertainment.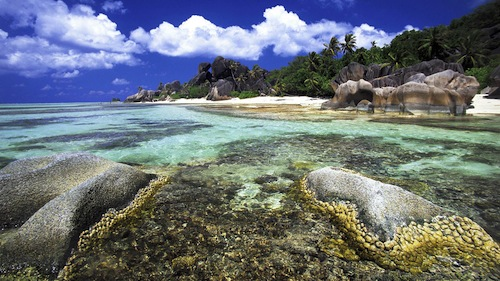 Freeport is also a casino centre, bigger than Paradise Island and also surrounded by crystal clear waters and sugar white beaches. There are also plenty of opportunities to pursue adventure sports such as parasailing and cave diving on both these islands. Your cruise operator may well have links to recommended local providers for this sort of activity and it is well worth asking questions  about this before leaving the boat.
Weather: When's best to take a Cruise to the Bahamas
Unlike an Alaskan Cruise, December to April is the high season but due to the Bahamas proximity to the Equator you can expect to experience very little temperature variation around the year. The rainy season is May to October but the rain generally doesn't last long so don't let this put you off necessary. It is possible to experience hurricanes in this season. There's a 1 in 5 chance of your being affected by a hurricane if you travel in this season.
Food – The local cuisine of the Bahamas
Those looking to sample the local cuisine will appreciate the tradition of fish frys, outdoor fish frying parties generally involving live music and dancing. These are generally held once a week in well-known locations and if your boat is staying overnight at a port this is a perfect opportunity to join one of these. One of the more popular ones happens on Taino Beach, Grand Bahama every Wednesday.
Language and Culture
The official language is English but a Bahamian dialect of this is widely spoken. The majority of the locals are of African descent but there is a minority white population who are descended from American Loyalists and British Puritans. There is also a small Bahamian Greek culture, the result of workers who came over to work in the sponging industry. The country achieved independence from the United Kingdom in the 1960s and still retains many signs of its British colonial past. Strangely enough, you may be able to find specific cruise deals to the Bahamas through Twitter, often the major cruise lines have special offers and release them through twitter.