Within this increasingly open world, as a gay man or lesbian you may be wondering what the fuss is all about when it comes to fully exclusive gay and lesbian cruises. Not all of the gay community act or feel the same about public affection or being out there and so proud of their choice in life, however some are.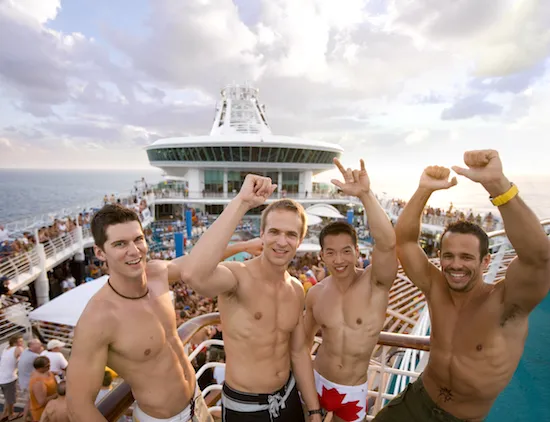 This article isn't about dissecting you and your choices but instead the decisions you can make when taking a cruise holiday. There is no doubt that each and every one of us feel good around our own family and friends, ideology or chosen interest. As a gay person we can often match our choice of weekend night club with that of a cruise holiday.
Now being gay, lesbian or bisexual we are allowed to feel differently depending on the occasion. Some times a Friday night may call for a heavy night's dancing and drinking at a gay club, where the music can be very different, as can the entertainment and showing of affection from all in the club.
However Saturday night your mood may be different, partying with straight friends, less need to show affection or perhaps publicly showing affection is never a problem anywhere and the music will be more mainstream. Less "what what" and more chart top ten. You have the same choice when it comes to a cruise holiday.
Opt for an exclusive gay and lesbian cruise or one that caters for gay groups where a section of the cruise ship will be for LGBT or part of the cruise will be tailored especially to your chosen community. Like all colours of the rainbow, there's a multitude of other options for LGBT.
But at the same time it will cater for straight family and friends in the same booking and cruise holiday. Then of course there's the bog standard cruise, with couples, families, teenagers and senior citizens all being human on the one single cruise.
It goes without saying that an exclusive LGBT cruise will be completely different to that of an everyday cruise and that activities for lesbians and gays will also be pretty much the same, only a little bit more out there and more lively and make you more at ease. Whether on board or in port and partaking in shore excursions the choice to go gay is entirely yours.
Lesbian and gay holidays aren't for all gays and lesbians, bisexuals or transsexuals and there are occasions when being straight laced within the gay community and world at large is a preferred attitude. However when you choose a GLBT cruise holiday, you're choosing to be immersed in a crowd that doesn't give two hoots about your actions or behaviour and it's that casual party atmosphere that many in the LGBT community are seeking out.
Exclusive Gay And Lesbian Cruises
As we have already hinted, just because you're gay that doesn't mean you're not straight with your emotions or attitude to life. For those that are the opposite or in the mood for all out partying, affection and a completely gay attitude then there are exclusive gay cruise holidays available.
Cruises which will not only whet your appetite but wet your entire cruise holiday with a rainbow of glorious gratification and make you king and queen all cruise long! There are some situations and holidays where moments can be spoiled by that one singular comment or funny look, while this can encourage you to be you more, occasionally you just want to get away from the scenario entirely.
Welcome to true lesbian and gay cruises. Supplied by several well known cruise lines, such as Atlantis, Olivia and RSVP Vacations which allow you to cruise with pride. Being able to relax on holiday and be you is important, holding hands, kissing, cuddling and flirting are all normal actions but are even more normal when amongst the right non judgemental company.
Much in the same way as a straight female may feel comfortable amongst an all female affair, gays and lesbians can dance freely and as close and naughty as they would like amongst like minded companions aboard an exclusive lesbian or gay cruise.
Let's face it, we can dance better in a gay club and feel more free than be subjected to eyes staring and visual judgements – however much fun that can be from time to time – just to make waves in 'normal' society.
An all gay cruise attracts all types of people within the gay community. There is no strict vetting process and the illusion that every person on an LGBT cruise is homogeneous and outgoing, under twenty-five, single and childless or indeed gay is probably one illusion that needs to be shattered early on.
GLBT cruises see holiday makers of all ages, all persuasions, with a partner, without, married, single, with children and with family and friends who may be straight but may well be on the look out for a bisexual partner… the whole idea is that the cruise is exclusively without prejudice and that all passengers know what's in store.
And gay cruises are not all about the availability of the species either. Gay cruises aren't all about sex and love, but also relaxation, activities and a good holiday are what most people are keen on despite the actively open basis of the cruise itself.
When choosing to go all out and be gay aboard a cruise ship, then the main three, RSVP, Atlantis and Olivia certainly know what they're doing. They offer exclusive gay cruising and offer entertainment and activities to suit. They know gay and lesbians and what they love and they offer so much fun that around 90% of travellers book a second lesbian and gay cruise holiday soon after.
Gay Groups And Separate Decks And Seclusion On Mainstream Cruises
Imagine a three level nightclub in London. In the middle is the gay club and the top and bottom floors are for all clubbers. Many cruise ships run by Royal Caribbean, Carnival, Celebrity cruises and Crystal all have options for gay groups but what exactly does this mean?
Well it's the equivalent of visiting the first floor of the aforementioned London night club to get to the second floor gay club. Gay groups can range from several couples to several hundred all welcomed abroad a mainstream cruise ship that caters for all and sundry.
The reason for choosing a gay group cruise for lesbians and gays that has a mixed population above and beyond that of an exclusive LGBT cruise is a wider range of destinations and ports of call, as well as more variety in pursuits and all year round choice. For instance you may find it a difficult time when seeking out a Christmas LGBT cruise holiday whereas mainstream cruises will be top of the bill and selling out.
Gay group cruises offer you an holiday within an holiday. While night clubs won't be playing gay music, entertainers won't be all out gay and as colourful there is still plenty of opportunity to enjoy the company of your own choosing just on a smaller scale with limited opportunity. That's not to say you can't be you all of the time, of course you can.
A gay group cruise offering will depend on the size of the gay community that have booked up. Should the 3000 passenger cruise ship be made up on 1500 gay and lesbians, then the entertainment and freedom to be gay will be much greater than that of a gay community of seventy couples.
The main offerings of a gay group cruise will be scheduled meetings and parties for the gay and lesbians, and their friends
and family on board. Cocktail parties, clubbing with the crew, specially arranged dining times and venues and private onboard functions and shore excursions where you can mix and mingle with the gay community and relax as you see fit.
Now obviously this all comes down to personal choice. Being managed may not be your cup of tea but if it's a choice of destination that swings you into taking a gay group cruise then the scheduled dining and parties may well be worthwhile. If your family and friends are straight, a mixed mainstream cruise with gay group options may well fit in nicely with everyone's plans and feelings of comfort also.
The thing you have to remember whether on an exclusive gay cruise or a gay group cruise is the crew of the cruise ship are there to make your holiday the best cruise holiday you've ever had. They will bend and break the rules and make events and excursions as possible and plausible as they can be.
So whether you have the whole ship to yourselves, a whole deck, nightclub or just several dinner tables, a club for a few nights or the crew disco, your pleasure is theirs to guarantee.
A gay group cruise offers an opportunity to have a mainstream holiday to a variety of top destinations while partaking in some of that gay attitude and gay atmosphere that may make you feel more comfortable and at ease. It could possibly turn out to be the best of both worlds.
Holidaying On Straight And Couple Cruises
Often it's not always timely or appropriate to wait for a gay and lesbian cruise that caters for your holiday needs. Perhaps it's the wrong time of year and there are none available or the destination isn't currently being catered for, so opting for a mainstream cruise holiday may be your only option.
As explained elsewhere the majority of cruise liners do offer special events for the lesbian and gay community while on a mainstream cruise. This can involve group tours when on shore and land excursions, invitations to gay only activities on board the ship, open access to cruise staff parties and designated dining areas.
The whole concept of a gay and lesbian holiday is being able to be yourselves in front of others that are like minded. Where your only concern is whether you should talk with you mouth full rather than kissing at the dinner table. A mainstream cruise does offer seclusion as well as openness and staff are usually gay friendly like most of society these days.
Simply contact your cruise operator and ask them about their schedule and options for the GLBT community and the activities and events they run, dining possibilities. At the time of booking you will also be advised at how large the LGBT community will be upon departure. Thus providing more reassurance that there will be gay orientated activities on board.
LGBT Family Cruises And The Community
Not everyone is gay, surprise surprise. While we often go on holiday with friends and partners who are of the same inclination and gay like ourselves, we also travel with family.
There are a great many cruise liners from Royal Caribbean and Carnival which offer mixed cruising offers. There are no set boundaries when boarding a gay and lesbian cruise or a mainstream cruise or indeed a cruise ship where it can even be half and half.
The same rules apply, equality and respect and whether you're straight and female on an Olivia lesbian and gay cruise or straight and male with your female wife on an RSVP vacations cruise ship holiday. You will be treated just as well and accommodated on either.
Family holidays breed understanding, if any is ever required, and cruise ships are open to the normal situation of families going on holiday. So don't be concerned about feelings towards others in your party, simply ask the cruise ship what they offer and how they cater for families and go from there.
Activities On Board A Gay And Lesbian Cruise
If you're a straight person or just a little curious about what might occur on a gay and lesbian cruise ship holiday then you're probably better off visiting a big city gay nightclub before deciding upon whether it is for you or not.
There's one thing to suggest every where you look people will be having sex, naked and flaunting who they are and chatting all and sundry up but that's what it may feel like if you've never visited a gay club before. But it is far from the reality, some people are just as shy and won't even go topless due to the male stewards on board the cruise.
There will of course be events and activities where gay really will shine through. When people are relaxed, uninhibited and amongst their own type of persuasion, people do tend to really let themselves go more. However gay cruises are not sex induced fests of gay reality, more an embodiment and celebration of who you are as a person or group.
So zip lines, swimming, cuisine courses and basketball will all be the usual affairs you find when the cruise ships are catering for mainstream passengers, only many of the activities may be gay themed. Night clubs on board will play gay music that celebrate being gay and open about it, this music tends to be a little bit more, well gay, evocative, emotional, celebratory and music to truly dance to.

That's not everyones cup of tea so it does get mixed up. Then there are the events in pools or on deck. Whereas mainstream bowls or pool sports like water games with balls may just be about the sport or game on board a main stream cruise, on a gay cruise it may be in fancy dress, black leathers required or devil outfits or attend as Queens and colourful divas.

Then there's the entertainment. You know how some straight people don't always enjoy gay in their face all day long, well entertainment on board a gay cruise while still mixed, provides for some of the best gay and lesbian talent in the gay community, brought aboard especially for you.

The gay community reaches far and wide as does the talent, with comics, bands and musicians, cabaret acts and singers, production shows, drag performers (no kidding) and DJs all being well known as entertainers with gay themes, gay shows, gay comedy and entertainment that gay and lesbians, bisexuals and transsexuals can truly relate to.

On the serious side of activities, as well as any 12 step programs being run, there will also be lectures from famous gay people within a variety of industries to help provide confidence whether in a business sense or lifestyle. Events and promotions that target the interests and lifestyles of the gay and lesbian community.

Last but not least. Most gay people have at one time or another enjoyed a Mardi Gras. Whether that be in Los Angeles, Amsterdam or Sydney and your cruise may well be taking in a visit to a proper street mardi gras, but just in case and so the party can continue, your lesbian and gay cruise will have tailored clubbing events that take in a great swathe of today's clubbing music.

From '70s and '80s themed nights right down to wholesale gay music mardi gras. There is no obligation to dress up or join in and often watching from the sidelines at all the lasers and lights and fellow passengers getting in the groove is enough to satisfy the need to join in. But the parties on board a lesbian and gay cruise will truly be events that you will never forget.
Shore and Land Excursions Tailored For LGBT Groups
In the majority of ports that a lesbian and gay cruise visits you will invariably encounter a gay quarter. The cruise ship will either have organised coach trips to the gay quarter or be throwing an event themselves in the city you're visiting.
However this is also a chance to shake the shackles of the cruise ship off and go seeking adventure on your own or with the group you're cruising with. Whichever scenario suits you best, the cruise ship offers the same on shore, land excursions, activities and events that are dished out to mainstream passengers, with the exception of a visit to the gay quarter or tailored land based gay themed activities.
Discovering new destinations, cultures and unearthing history and art is something everyone enjoys and the fact you have decided to sample a lesbian cruise indicates you like the company of like minded individuals. So that fun need not stop just because the cruise ship is in port.
The new friends you have made, others you are yet to meet will all likely be taking their chosen interest to the next level by partaking in an organised land excursion. Whether to a museum or kayaking, enjoy the day out and stay with your lesbian and gay community and discover your surrounding at the same time as getting to know your fellow passengers.
There rally isn't much difference between mainstream cruise excursions and those offered to the gay and lesbian community. Aside from one or two select activities such as the parties and gay orientated lectures and of course the camaraderie and humour.
Gay And Lesbian Cruise Ship Companies And Destinations
There are several cruise ship companies that go all out to provide the ultimate in gay holidays. Offering the entertainment, activities and experiences that a gay and lesbian lifestyle holiday screams out for. All night events, clubbing and parties that run throughout the day also and entertainers that keep you smiling.
The main three LGBT cruise ship liners are Olivia, RSVP Vacations and Atlantis Events. Olivia is the female only cruise liner and female only events company which hires specific cruise ships around the world catering for females only – especially lesbian only cruise ship holidays. So always check with Olivia for their latest cruise holiday options before seeking out a gay group holiday on a mainstream cruise.
Olivia can be enjoyed on Lindbald's ms Islander, ms Paul Gauguin, Windstar's Windsurf and the Avalon Scenery visiting such destinations as France, Galapagos Islands, Italy, Croatia and Greece as well as a fantastic cruise to Tahiti and Bora Bora. Amongst other islands and continents. For a true lesbian cruise holiday then Olivia, depending on your destination, should be a first choice.
You know who you are, how you wish to act and to be able to holiday without holding back those inhibitions is one of the attractions of a gay holiday. It does seem a bit funny to spend all those hours debating coming out, only to find yourself seeking an holiday amongst only gays or lesbians but it's not a step backwards.
A gay cruise holiday really is a voyage of further discovery and a great way to be able to relax and enjoy the company of friends and a loved one without the concern of being over flamboyant or too intimate in public. Atlantis events cater for over 20,000 people every year with many repeating their holiday in future seasons.
Whether you're looking to party non stop to the Caribbean or take in the sight of Rio de Janeiro and Singapore, Atlantis Events has a wealth of beautiful destinations to choose from and if you're seeking out a European trip, then Barcelona and Amsterdam will welcome your cruise ship directly into their gay quarters.
Unlike Olivia, Atlantis welcomes both sexes however males do dominate the cruises with females making up to 5% to 10% of any gay cruise departure. But they are working to increase the tally for lesbians and females. Like others, the cruise ships are hired especially and utilise a range of cruise ships, from Celebrity Silhouette to Carnival Miracle and Seabourn Odyssey.
RSVP cater for lesbians and gays, and of course bisexual and transsexual and have an overwhelmingly committed staff to ensure your cruise holiday is as welcoming as possible. All staff aboard hired vessels involved with Olivia, Atlantis and RSVP are gay friendly.
RSVP have been operating for thirty years and in that time have learned a great breadth of knowledge on how to organise some of the most spectacular gay frenzied cruise holidays in the world. With many fantastic gay and lesbian themed activities to ensure your holiday is one of the best you'll ever have.
Whether you wish to sail down the Danube, up to Alaska or around the Caribbean, there is an adventure awaiting you and your partner and group. Not every gay person likes to flaunt it and dress up in hot leathers and devil outfits but you're more likely to feel able to do so aboard a GLBT cruise than you are a mainstream cruise.
That's not to say that you're not welcome to give it a try. Most cruise liners from Royal Caribbean to Carnival and Crystal, Holland America, Windstar, Azamara, Cunard and Norwegian all offer LGBT meetings and events, either for groups or individuals, whole partitions of the cruise ship or for charters – invariably organised by Olivia, RSVP and Atlantis Events.
Being gay and lesbian there is of course yet more groupings within the LGBT community. And we hope no one is being left out… Find LGBT black cruises with Songmaster BGL cruise, all lesbian cruises and events with Sweet, Sailor Dudes and SaltyBoys also cater for gay cruise events and holidays.
A few others to consider are Gayribbean Cruises, Gay Greece Go, LGBT cruises with Concierge Travel, Brand G, Pied Piper Travel, Aquafest and r Family Vacations. Whether you're a sole traveller – you won't be for long, cruising as a couple or as a group, there are plenty GLBT cruise holiday options to consider with plenty of fantastic holiday destinations.